Carnivals and Fairs
Carnivals and fairs are a lot of fun, but they also present unusual risks that must be effectively managed. To help you ensure a safe time for all, please consider the following recommendations.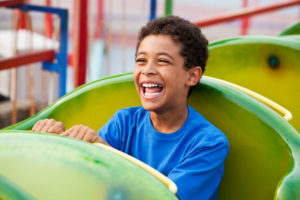 Insurance and Exclusions
Please note that some activities/equipment, such as the use of trampolines, are excluded from our insurance coverage. Be sure to speak with the Office of Risk Management about the specific activities you will be engaged in and equipment you will be using.
Hold Harmless and Indemnification Clause
When using vendors, always insist on a contract and be sure it includes a Hold Harmless and Indemnification clause, which protects your parish/school and diocese from claims resulting from the contractor's services. In its simplest form, the clause states, "[Contractor] shall defend, indemnify and hold harmless [your parish/school], the Roman Catholic Archdiocese of Boston and Cardinal Sean O'Malley, a Corporate Sole, from any and all actual or alleged claims, liability, loss, damage and/or injury arising out of or incident to any acts, omissions, negligence or willful misconduct of [contractor] and its personnel, employees, or agents." If the contract does not include a hold harmless and indemnification clause you may copy and paste the example statement into the contract, or add the clause as an addendum to be made part of the contract.
Certificate of Insurance
In addition to a contract, be sure you obtain a Certificate of Insurance from all vendors. The certificate should name your Parish/School, the Roman Catholic Archdiocese of Boston and Cardinal Sean O'Malley, a Corporate Sole as additional insured for the scheduled event. The certificate must show evidence of general liability insurance of at least $1,000,000 per occurrence and workers' compensation insurance of $500,000 per occurrence for bodily injury.
Staffing Considerations
Assess your staffing needs and resources; make certain you have recruited enough staff and volunteers.
Allow sufficient time for training prior to the event, and be sure all volunteers and staff members are familiar with safety rules and guidelines.
Make sure that during the event at least one staff member or volunteer is trained in CPR and first aid. Make certain first aid equipment is centrally located and contains basic supplies, including a portable Automated External Defibrillator (if your parish/school has one).
Your volunteers should have fun too! Rotate shifts at regular intervals to make sure all can participate in the festivities. For best supervision results and to allow your volunteers to enjoy the event, try to limit shits from 30 minutes to an hour.
Amusement Devices
All amusement devices in Massachusetts must be licensed and are regulated and inspected by the Department of Public Safety. An "amusement device" is defined as: a fixed or portable mechanical device similar to, but not limited to ferris wheels, carousels, rock walls, euro-bungee or similar devices, inclined railways or similar devices, including inflatables, as well as amusement devices as defined by ASTM (American Society for Testing and Materials). Prior to owning or operating an amusement device, a license must be granted by the Department. In addition, criminal background checks are required of certain amusement employees. Each amusement device, including inflatable devices, must be registered with the Department annually and inspected according to the regulations.
In addition to making sure you are contracting with a company that is licensed, be sure they are reputable. It is also a good idea to check references of the last two or three clients for whom the company did work. Be wary if the company is not willing to provide recent references.
ALWAYS request a Certificate of Insurance from the carnival ride vendor. The certificate should name your parish/school, the Roman Catholic Archdiocese of Boston and Cardinal Sean O'Malley, a Corporate Sole as additional insured for the scheduled event. The certificate must show evidence of general liability insurance of at least $2,000,000 per occurrence and workers' compensation insurance of $500,000 per occurrence for bodily injury.
Inflatable Guidelines
When renting an inflatable, the Massachusetts Department of Public Safety recommends asking the following questions:
Does the rental company set the unit up with trained employees? Avoid companies that allow you to pick the device up and set it up yourself.
Does the rental company provide an operator (required to have an operator for devices that is designed to enable patrons to stand, sit or climb to a height of 12 feet or higher)?
If an operator is not provided, did the rental company provide you with clear instructions to ensure safe operation of the device? Avoid rental companies that do not provide an operator or fails to properly instruct you with the manufacturers recommendations including capacity limitations, wind restrictions, location placement and anchoring requirements.
Before the carnival begins, be sure you inspect the area where the inflatable is set up and check for the following:
Is the device placed on level firm ground?
Is the device near any electrical lines or anything that would interfere with the safe operation of the device? For instance, if an inflatable is tight against a brick wall, it would present a serious hazard to any child who would bounce against the wall.
Is the device anchored properly? If a device is using tent stakes or stakes that do not appear will hold the unit down in a strong wind, the device should not be used.
Are the stakes fenced off or protected to prevent children from tripping or injuring themselves on them?
Can you see any tears in the device or signs of excessive wear?
Is the blower motor plugged into a ground fault circuit interrupter (GFI) receptacle?
Does the operator know what to do in the event of a deflation?
While the carnival is in progress, periodically check on the equipment and operators. Is the operator allowing the capacity to be exceeded? If it looks like there are too many children in the device, chances are you are correct.
Food Safety/Hygiene
According to the Centers for Disease Control and Prevention, foodborne illnesses increase during the summer months, mainly because people are cooking and eating outside at places like fairs and festivals. The usual safety controls that a kitchen provides may not be available when cooking and dining at these events. It is important that you educate staff and volunteers to take food safety steps that are necessary to prevent illness:
Try to cook-serve, which means limiting the amount of food preparation performed offsite. The CDC publishes a booklet to help volunteers prepare and serve food safely for large groups, such as church dinners and community gatherings. The booklet is available in English and Spanish. Please see the Resources section below to download the booklets.
If using a food vendor, please obtain a Certificate of Insurance. See the Certificate of Insurance section for more details.
Include portable potties and hand washing stations in your plans.
Be sure to include additional trash receptacles and assign volunteers to routinely empty. This will go a long way to keep your facilities looking good and reduce trip and fall hazards.
Site Safety
In advance, designate a staff member or volunteer to document any incidents or accidents that occur during the carnival or fair.
After the site is set up and before the carnival is open to the public, take photos of the grounds with the rides and vendor stations intact. Alternatively, use a paper and pen to map out the stations. In the event of an accident, the map or photos will be helpful in documenting where the details of the accident.
Access to the site should be controlled and vehicles should be restricted.
Proper lighting is essential. Be sure grounds and pathways have adequate lighting at night.
Look out for things that may obstruct pathways and cause tripping hazards, such as extension cords and stakes that are not placed properly in the ground.
Require that emergency plans be posted, along with the phone number and directions to the nearest hospital emergency room.
To prevent theft of funds, ensure that two or more people remain with the cash box at all times.
Post Safety Reminders
Insist that your carnival ride vendor post any important safety reminders prior to getting on the ride and any safety reminders when getting off and or exiting the ride. It is recommended that you include this requirement as part of the agreement.
Setting Up/Taking Down
When setting up or dismantling, use appropriate equipment that is in good condition, such as ladders with all the rungs intact.
Never stand on the top rung of a ladder. If more than half way up a ladder, make sure there is a second person on the ground holding the ladder secure.
Check and inspect dollies before use.
Be mindful of proper lifting techniques: keep the load as close to your body as possible. Let your legs do the work. Straighten your back, lifting from your legs, not your back.
Accidents and Injuries
As mentioned in the Site Safety section of this article, it is good practice to designate a staff member or volunteer to document any incidents or accidents that occur. Please make sure accidents and injuries are reported as soon as possible. See our Forms tab for more information on general liability and property claims.