International and Extern Priests
Requirements Associated with Inviting, Hosting and Employing Priests from Outside the Archdiocese
International priests and those from religious orders and dioceses outside our own bring many blessings to the Church in Boston. They provide a reminder of the universal dimension of our faith and enhance our sense of communion with those outside our usual sphere. And in many cases, they offer welcome service to our parishes and institutions.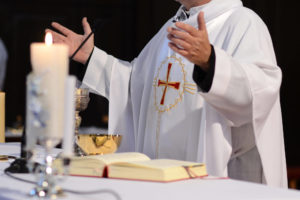 However, because they are not incardinated in our archdiocese, it is prudent for pastors, managers and other supervisors to understand requirements associated with inviting, hosting and employing priests from outside the Archdiocese of Boston.
There is no one-size-fits-all protocol for all external priests. In this article, we provide the rules and guidelines for the most common situations encountered here.
All priests coming into the archdiocese to perform any ministry, including officiating at weddings and funerals, must have a Letter of Good Standing from their diocese or religious congregation. This letter must be written on official letterhead and be signed by someone in the office of the vicar general of the diocese or superior of the congregation.
All priests who plan to stay in the archdiocese for more than seven days must apply to the Office of Canonical Affairs for faculties, which give them permission to minister within the archdiocese.
All priests must complete the Safe Environment program within 30 days of starting an assignment in the archdiocese.
All priests who are in the archdiocese for more than one year must authorize the archdiocese to request a Criminal Offender Record Information (CORI) check each year. This is a Massachusetts requirement.
International priests are also subject to additional rules, many of which are related to their visa status.
This is basic information for potential hosts and employers
Priests may come to the United States on tourist, student or religious worker (R-1) visas. Only priests with work-authorized immigration status such as R-1 religious worker status may work and/or be compensated.
To get an R-1 visa, a priest must have a sponsoring employer in the United States and fulfill other eligibility requirements.
The sponsoring employer is responsible to file many (many!) documents with the Department of Homeland Security on behalf of the priest and submit to a site visit from a local officer of the U.S. Citizenship and Immigration Services.
The process to get an R-1 visa may take as long as six months. It can be expedited only by paying a steep additional premium filing fee over and above the legal fee and standard filing fee. Government fees are subject to change but at the time of this writing, the standard filing fee is set at $460; the premium fee is currently set at $1,225. The legal fee is whatever your legal counsel charges.
R-1 is a temporary visa, issued for an initial 2.5 years, with potential for one 2.5-year renewal. The maximum is 60 months.
The priest with the R-1 visa is only allowed to work for the sponsor, not for any other employer and not for himself.
It is sometimes possible to get a person in student or tourist status changed to R-1 status, but it is challenging.
If a decision is made to sponsor a priest, the sponsor will be asked to provide proof that the priest qualifies for an R-1 visa and that the sponsor is a qualifying sponsor. This may include records of education and ordination and require the services of a translator to present them in English. It will also include proof of the financial ability of the sponsor to employ the priest.
Parishes or other agencies under the corporation sole of the Archdiocese of Boston are not permitted to sponsor clergy on their own, but must go through Clergy Personnel. Parish staff with questions about this should contact the Department of Canonical Affairs.
This is a complex, time-consuming process. It will cost more than $2,000 to process the initial paperwork, and over $3,300 if you require fast processing. This is not a do-it-yourself project. Make sure you work through the appropriate office at the Pastoral Center. For all priests who will be employed at an entity under the jurisdiction of RCAB, contact the Office of Clergy Personnel at 617-746-5866. For priests who will be exercising ministry at a non-RCAB facility, such as a university or religious order retreat house, or who will be in the archdiocese as students, vacationers or retirees, contact the Office of Canonical Affairs at 617-746-5651.
If you are considering offering a paid assignment to an international priest, be sure to coordinate with Clergy Personnel.
Consequences, Caveats and Red Flags
If you employ a priest before the R-1 petition is approved and before he is authorized to work for you, the priest will be in violation of his immigration status and can be fined, sent home and permanently barred from returning.
As the employer, you could jeopardize your ability to sponsor someone in the future.
Fraud or misrepresentation invokes a permanent exclusion.
You may not compensate an international priest who does not have authorization to work for you. This includes any form of compensation, including stipends of any kind (monetary or otherwise) in exchange for services.
As the sponsor, you must pay the compensation described in the R-1 petition, as well as health insurance.
Your parish and every person employed by your parish, including all clergy, must complete an I-9 form that verifies identity and authorization to work in the United States.
A priest without work authorization is not allowed to engage in any employment, such as working with a relative who owns a business or acting as an independent contractor.
A priest with temporary work authorization such as an R-1 is not allowed to engage in any employment for anyone other than the sponsor. He may also not be self-employed; for example, he may not work for or receive payments directly from retreat houses, parents of baptized children, brides, or ANYONE other than the R-1 approved sponsor.
Keep an eye on dates: don't let anyone overstay his visa or authorized time.
Don't underestimate the time it will take to get the visa your international priest needs. Also, if you want to extend the status of an R-1 priest, you should begin 6-8 months before the first R-1 petition expires. If you want to sponsor the priest for permanent residence (green card), begin 12-18 months before the 60-month maximum time.
Most non-U.S. citizens must report a change of address within ten days of moving within the U.S.
Settling in
There may be initial challenges for international priests and the people they serve. These may include understanding and becoming accustomed to culture and language, social relationships, the role of women, and the use of funds. The Archdiocese of Boston conducts a three-day acculturation program to help international priests with these and other topics, including civil and canonical issues.
But don't get discouraged!
We are indebted to missionary priests who brought the faith to this country and we are enriched by the contemporary presence and attention of priests from other places willing to serve the needs of our parishioners. Priests from countries where vocations are more abundant have been generous: some give our archdiocesan priests the peace of mind to take a summer vacation, some help us minister to immigrants from their homeland, and still others share their faith and perspective where it is needed most. And serving here gives priests an opportunity to see the Church in the U.S. from the inside, rather than from the perspective of an outsider looking in from a distance.
If you have any concerns about your responsibilities when hosting priests from outside the country, or outside the archdiocese, please contact the Office of Canonical Affairs at 617-746-5651.
Other resources: The USCCB website has the full text of "Guidelines for Receiving Pastoral Ministers in the U.S. Third Edition" as well as helpful video from a workshop on the topic. http://www.usccb.org/about/clergy-consecrated-life-and-vocations/usccb-guidelines-for-receiving-pastoral-ministers-in-the-us-third-edition.cfm
Thanks to Father William Joy, Father Paul Soper, Sean Hickey, Jane Devlin, and Jim DiFrancesco of RCAB for their generous assistance. Thanks, too, to Miguel Naranjo, Director of Religious Immigration Services at the Catholic Legal Immigration Network (CLINIC).