Safe Patient Handling
Many nurses and nursing assistants suffer from work-related musculoskeletal disorders and pain. According to OSHA, over 50 percent of injuries and illnesses reported in 2013 among nursing assistants were musculoskeletal disorders. Implementing a safe patient handling training program at your facility can go a long way in preventing these types of injuries.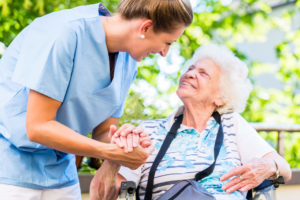 Having a successful safe patient handling program means more than owning equipment: it means having the right amount of equipment that is right for the job and easily accessible to workers when they need it. Here are some ways to get the right equipment for your nursing home:
Involve your front-line staff in testing and selecting equipment. The people who actually move patients are a valuable resource when determining the equipment most appropriate to each unit.
Choose equipment based on the specific lifting, transfer, and movement needs of each unit and patient population.
Make sure the equipment is conveniently located, readily available, and accessible so that staff can use it without keeping patients waiting or delaying other tasks.
Put systems in place to ensure that mechanical equipment is maintained and supplies such as slings and transfer sheets are kept clean and stocked. Staff cannot use mechanical equipment if it is broken or not charged. Further, equipment that has not been maintained properly could result in injuries to both caregivers and patients.
Consider partnering with an equipment vendor. Vendors can help you develop your safe handling program, host equipment fairs, troubleshoot issues, answer questions, and maintain and replace equipment.
Design with safe patient handling in mind during construction and remodeling. It is easier and more cost-effective than retrofitting.
The following resources will help you identify the right equipment for your hospital:
In 2011, the Association of Occupational Health Professionals published Beyond Getting Started: A Resource Guide for Implementing a Safe Patient Handling Program in the Acute Care Setting. This resource provides guidance about the selection of equipment, potential types of equipment by hospital department, and a product evaluation tool.
In 2003, OSHA published Guidelines for Nursing Homes, Ergonomics for the Prevention of Musculoskeletal Disorders to provide information on available options for mechanical equipment and lifting devices that a facility can consider using to meet the needs of each individual patient.